Sheet Metal Fabrications in Foley AL | AirMax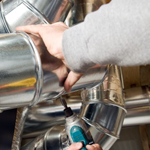 Conducting maintenance in your commercial HVAC system takes time and money. To avoid frequent repairs every few years, you should consider replacing your HVAC ductwork with metal sheets. While they are comparably thin, sheet metal is robust, efficient, and overly cost-effective. If you plan to undertake such replacements or install completely new ductwork in your HVAC systems, finding the best sheet metal fabricators is overly critical.
Since most people in our locality have trusted our company with sheet metal fabrication services, we excel in sheet fabrication projects of all sizes ranging from major projects such as custom air ducts to small installations such as repairing existing ductwork with new custom fittings. Our trained and experienced technicians are readily available to handle all your needs.
Sheet metal is recommended for use in ventilation ducts for various reasons. It can withstand a lot of pressure and quickly changing conditions. To enjoy all these benefits, consider the options of custom sheet fabrication. Custom sheet fabrication provided by our technicians reduces air leaks, are easier to manage, and the small custom size allows for better air distribution and volume.
Regularly shaped ductworks are not stable, as they tend to move or bend when in use. This causes air leaks, forcing your ventilation system to work harder to achieve the desired functionality. If this persists, you might end up with increased energy bills. However, by using custom sheet metals installed by industry experts, you can ensure your ventilation is sealed airtight and fits your building correctly. You won't experience energy losses like other ducts.
Find Custom Sheet Metal Fabrication Services Near Your Area
As mentioned, air ducts' maintenance is inevitable after a few years of using the HVAC system. However, the process is much easier if you have custom sheet metal in your systems. Besides, you won't have to replace the systems within a few years since custom fabricated sheet metal ducts are durable.
For installation, maintenance, and replacements, our technicians have earned and maintained a good reputation for providing satisfactory services that withstand the test of time. Having provided our services to various homeowners, our team assures quality services to improve your home's heating and cooling efficiency.
While our process is quite simple, it is overly effective. Our team of experts pays close attention to the details in your already existing system. Through this, we understand the entire layout of your ductwork and create custom sheet metals that will improve your system's airflow.
Looking For Sheet Metal Fabricators? Call Our Foley AL Experts!
When installing a new commercial heating and cooling system, you should ensure that all other accompanying systems are correctly installed to maximize efficiency. A poorly functioning ductwork will nullify the efforts of your commercial HVAC system. This is why you should ensure your ductwork functions efficiently by hiring the best professionals in the industry. With extensive experience in the community, we are confident that we can provide amazing ductwork sheet metal services. Our goal is to improve our customer's airflow and maximize indoor comfort from their HVAC systems.
AirMax AC Repair
1905 S McKenzie St. Foley AL, 36535
251-943-9200